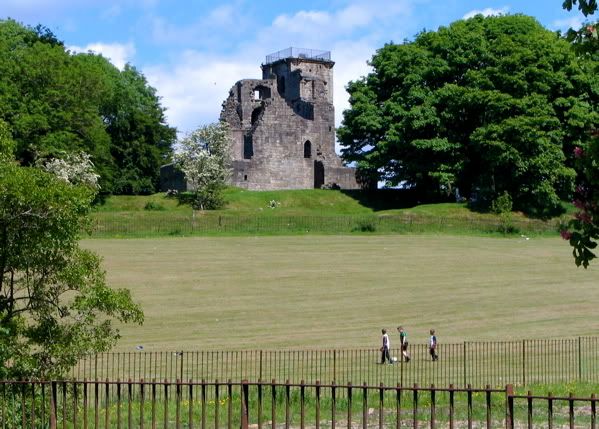 OK, let's see if I can get a couple more 'travel' and 'local culture' posts in before my parents arrive on Wednesday! Back in May, when it was still summer, Heather and I had a free Saturday. There are still a few castle/ruin-y places around Glasgow we have been meaning to visit, so we decided on Crookston Castle, near Paisley. Rumors of Paisley's quality charity shops/thrift stores may have influenced our decision. The Antonine Wall will have to wait for another day...
castle
. It was built by the Stewarts in about 1400, but got pretty badly damaged early on in its history. It has a nice tower from which you can see the Campsie Fells, a little of Glasgow, and a lot of housing schemes. The moat is pretty cool, but the grounds around the castle tend to be frequented (especially on sunny days) by large groups of intimidating adolescents. The ones playing football/soccer aren't bad, but the ones with cases of Stella are less hospitable. This may be why the castle caretaker has an Alsatian/German Shepherd.
This is one of the better ruins we've been to, slightly nicer than
Bothwell Castle
, we think. This is mainly because you can climb up so high in the tower.
Once we got back to Paisley, we weren't able to find the amazing charity shops, but I did get a record number of beard comments for one day. None were incredibly original, so I won't bother to post them here.